Mission Statement
The Educational Equity and Support Services Office is committed to personal and academic empowerment for each student and staff member. Central to this commitment is to ensure each school provides a place for all students to feel safe additionally that they feel their campus is a place where they engage, belong and connect. Increasing school connectedness can empower students to engage in school through their interests and identity. SUHSD  has the privilege to provide the space to Empower students to discover their self-identity and identify their personal interests. Students can explore who they are as young people and, ideally, the positive impact they can make in their school community. Race, culture, gender are all just parts that build towards a student's identity.
Educational Equity and  Support Services works diligently to provide tools , create opportunities and  establish systems that empower all students through multiple areas. 
This includes :
Working with highly respected and knowledgeable consultants that are experts in the areas of student empowerment.

Supporting student leadership opportunities that grow and develop student's adult like competencies and skills 

Provide experiences that educate students about diversity and acceptance  such as; support through groups like BSU, GSA and other student affinity groups.
Join us for the RISE Conference
Students, parents, staff and community members are invited!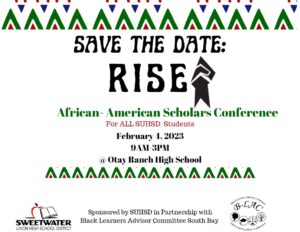 Dr. Vernon Moore
Assistant Superintendent of Educational Equity and Support Services
Vernon.Moore@sweetwaterschools.org
Phone: (619) 691-5533
Yessica Meza
Senior Executive Assistant
Email: Yessica.Meza@sweetwaterschools.org
Phone: (619) 691-5533
Area of Responsibilities
Departments:
Schools: