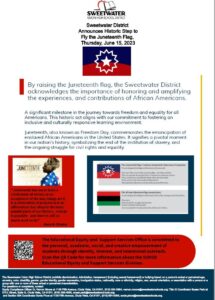 What is Juneteenth? 
The historical legacy of Juneteenth shows the value of never giving up hope in uncertain times.  Juneteenth is a day that commemorates when some 2,000 Union troops arrived in Galveston Bay, Texas to announce that more than 250,000 enslaved black people in the state, were free by executive decree. This day, June 19, 1865, came to be known as "Juneteenth," by the newly freed people in Texas.
What is important to know about this historic event is that the post-Civil War Emancipation Proclamation issued by President Abraham Lincoln took effect on January 1, 1863 . . . a full 2 and a half years before Juneteenth. As such, African Americans were still experiencing slavery for over two years AFTER it had been outlawed in the United States! So, in fact, Juneteenth marks the true end of bondage in America. Juneteenth marks our country's second independence day. Although it has long celebrated in the African American community, this monumental event remains largely unknown to most Americans.
When do we celebrate Juneteenth? 
Juneteenth is celebrated annually on June 19th
Where can I access more information? 
Historical Legacy of Juneteenth 
How is SUHSD empowering students' identity around Juneteenth? 
 Juneteenth commemorates much, much more than the end of America's horrific practice of slavery. Perhaps, President Barack Obama said it best:
"Juneteenth has never been a celebration of victory or an acceptance of the way things are. It's a celebration of progress. It's an affirmation that despite the most painful parts of our history, change is possible—and there is still so much work to do.
SUHSD understands the important work to empower students' identity. We have partnered with a number of regional county advocates and experts as consultants to help lead these efforts while we continue the work.
If you would like more information please contact your school's principal to inquire about a BSU club